When I was a teenager, I carried the burden of the occasional break out. Something that no teenager wants to deal with but something that most experience (thanks a lot hormones). But nothing compared to the skin tornado that happened when I hit my early 20's. This unfortunate breakout was partly due to ending my relationship with the Birth Control Pill and it took some serious shots at my self confidence. I literally tried everything in my power to tame the acne that had erupted all over my face but nothing was working. I went as far as taking the drug Accutane, which requires monthly blood tests to ensure your liver is processing it properly (yikes). While this "wonder drug" did give me clear skin for a year or so, eventually it came back and with a vengeance. I was at a loss of what to do and enlisted the help of my Naturopath who referred me to a holistic aesthetician. I am so grateful that I met this amazing woman for so many reasons and her knowledge of natural skin care is one of them. She started by assessing my skin and eventually came up with a skin care regime for me. This is what the regime looked like:
(1) Replace harsh cleansers with an Oil cleanser.
(2) Replace astringent and drying toners with a hydrating Hydrosol toner.
(3) Replace all pharmaceutical prescriptions and toxic face creams with a Facial Oil.
I was so hesitant to try this regime as I couldn't get past the idea of adding oils to my skin. Wasn't acne caused by too much oil? Was this going to cause me to break out even more? The opposite was actually true.. I learned that your skin will produce more sebum when it is lacking hydration, and oil dissolves oil. I needed to add healthy oils to my skin to balance its over production of pore clogging sebum. After doing some research and learning all about the magical effect that oils can have on your skin I was, still hesitantly, ready to try this method. I am so glad I did. Within a few months, I noticed big changes and shifts in my skin. Break outs were lessening, my skin tone was evening and my complexion was nothing short of luminous. It had worked! I kept at it, and over time my skin improved to the point where all I ever experience is the odd small pimple here and there during my period.   To this day, I still use the Oil Cleansing Method with the use of hydrating hydrosols and facial oils to keep my skin happy. I have never had better skin and I don't suffer from embarrassing and painful break outs. I realized in retrospect that my skin was craving hydration, nutrition and simplicity. We forget that our skin is working hard all day to filter out environmental toxins, stay balanced during seasonal weather shifts, and  process hormonal shifts in our bodies. Rather than stripping the skin of its nutrients and moisture (which many conventional skin care companies will try to have you believe) we should nourish our skin from the inside out. There are so many ways to combat acne instead of depleting our largest organ of its food. Before you reach for pharmaceuticals or astringent toners, try looking at a few of these additional things first:
Diet/Nutrition
Drink More Water (help your liver and skin flush toxins)
Allergies
Avoid Toxic Make up
Avoid Toxic Shampoos and Conditioners (These products come in to contact with your skin in the shower and can cause some unpleasant break outs. Find my natural shampoo and conditioner recommendation HERE).
Avoid beauty products with the ingredient 'Bismuth Oxychloride'. This is an ingredient commonly found in mineral make up which is deemed "natural" but this ingredient has been wreaking havoc on many faces. It has been studied and found to have a direct link to acne. This happened to me years ago when I was using a certain mineral foundation.  It took me a long time to realize that I had been taken by a company using "green washing": when a company makes claims or statements that their products are natural but are actually not.
Birth Control Pills (these can cause acne during their use and also cause acne when stopping them thanks to hormonal shifts that occur)
Avoid Toxic skin care products
Hydrate your skin
Simplify your skin care routine (too much fussing with your skin will only anger it)
Product Recommendations:
It's so easy to read articles listed with recommendations on how to cure that stubborn acne but it tends to end there. I found that many times I was left unsure what to buy or use regardless of how well the article was laid out. So, I decided to list some of my favourite oil cleansers on the market. I have used them personally and have never experienced a negative reaction as a result of any of these brands (they are really amazing). This list may be overwhelming, but it is meant to provide you with a list of resources to further research and choose whats right for you. If you need more help, feel free to cmoment below or send me an email anytime and I can help you navigate you preferences as best as I can! Everyone's skin is different so be sure to look into each product through the links provided to choose your best fit! Each product name listed below is a link to the product page so you can have access to the products themselves and their ingredient lists (simply click the name of the product).
1. MUN Akwi purifying cleanser
 Of all the oil cleansers I have tried, this cleanser is the one that feels the most like a traditional face wash. You cannot tell that you're washing with oils which may be palatable for anyone who is just starting out in the world of oil cleansing. I personally enjoy the feeling of oil cleansing but this may be due to years of practicing this skin care ritual. MUN is high end luxury skin care and this cleanser will love your skin feeling soft and refreshed. This product is partially Non-GMO and  certified organic, meaning that only a portion of the ingredients denote this standard but are all naturally derived.
My Affiliate Code will save you 15% off at checkout from Mun Skincare, just type in the discount code 'BLOOM' at checkout.
2. Maya Chia 'the great cleanse'
This oil cleanser is one of my personal favourites as it includes one serious super power, 'supercritical chia oil'. Maya Chia is well known for its extraction process that doesn't diminish the benefits of the chia seed oil found in their products. This cleanser denotes some of the best skin care ingredients including supercritical chia seed oil, roman chamomile essential oil, Non-GMO vitamin E and many more. This cleanser has an amazing texture thanks to the oils they have selected. It isn't too heavy and leaves the skin feeling supple and glowing. Full blog review HERE.
3. Lewin & Reilly Kukui cleanser 
Lewin & Reilly are a natural skin care company that caught my eye due to the exotic ingredients they create their products with. This cleanser in particular is made from Kukui nut oil which is rich in oleic and alpha linoleic acids which assist the skin in retaining its hydration (a key component in fighting acne). Their products are 99.6% organic and wild harvested making this oil cleanser an incredibly nutritious choice for your skin.
4. Kahina Giving Beauty Oil Cleanser 
This oil cleanser is one of Kahina beauty's newest launches and I was so excited to test it out when it first hit the shelves. Not only does it have an amazing consistency, not too viscose but not too thin, it comes packed with some pretty powerful and unique ingredients. I have never seen the addition of some of these ingredients to an oil cleanser so I was excited to say the least. What are these ingredients that make it so unique?
• Calendula: Stimulates healing through antiseptic and antimicrobial action
• Turmeric: anti-bacterial and anti-inflammatory to combat acne and reduce redness
• Blue Tansy: Reduces redness and irritation, soothes and calms
• John's Wort: Rich in flavonoids, helps heal and repair damaged skin
This oil cleanser is perfect for anyone with redness or acne prone skin. It soothes, hydrates and plumps all while leaving your skin fresh and clean. It doesn't require a wash cloth as it dissolves into water but if you want the extra exfoliation, an organic washcloth is always a great addition.
Canadian? Check out Kahina's Oil Cleanser HERE.

5. Sahajan Essential Oil Cleanser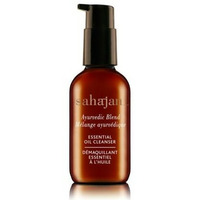 I have gone through TWO full sized bottles of this oil cleanser and would definitely put it at the top of my list of recommendations. This cleanser smells like flower petals the second you open the bottle and the consistency is so smooth that the cleanser glides over skin easily. It isn't too thick or too thin, though it resembles a traditional cleanser in some ways. It washes off like a dream with water and takes makeup, dirt and debris with it. It leaves skin so smooth and silky!
Some of its super power ingredients are:
• Moringa Oil: Rich in antioxidants with anti-pollution cleansing benefits, it gently lifts dirt, makeup and impurities leaving the skin fresh and glowing
• Rose Oil: A delicate fragrant oil that is known in Ayurveda to help calm and moisturize the skin.
• Coconut Oil: Deeply hydrates and leaves the skin soft and smooth
As a note, it does contain coconut oil for anyone who may be sensitive to using this on their skin. I personally do not have a bad reaction and instead am loving how hydrated and soft this cleanser leaves my face.
—
**Disclosure: Affiliate links were used in this post**